Jadon Sancho's answer to manager Erik ten Hag has drawn criticism from former Manchester United and England goalkeeper Ben Foster, who called the forward "petulant" and "reactionary."
Sancho was left off the team for Man Utd's 3-1 loss to Arsenal on the road on Sunday, sparking speculation about a possible injury. After the game, though, Ten Hag clarified that he did not choose Sancho because of his underwhelming efforts in training.
Rasmus Hojlund, Facundo Pellistri, and Alejandro Garnacho were substituted in place of them by Ten Hag as offensive alternatives.
Ten Hag's remarks received a swift retort from Sancho. The winger wrote on X (previously Twitter) that claims he had not trained properly were "completely untrue."
Although he did not elaborate, Sancho intimated that the manager had other motives for leaving him off the team. He continued, saying it "isn't fair" that he has "been a scapegoat for a long time."
The Telegraph has reported that Ten Hag has been "stunned" by Sancho's extremely visible complaint. Ten Hag is especially irritated by the term "scapegoat" because he believes he has given the Englishman numerous chances to restart his career.
As a January transfer is now likely, there are mounting worries that Sancho may have played his final match for Manchester United.
Sancho may, of course, put things right by expressing his regret to Ten Hag and working hard to establish himself as a significant member of the team.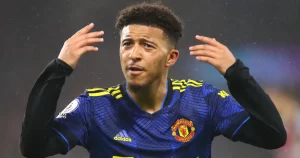 Jadon Sancho statement 'absolutely crazy'
Foster, though, disagrees that Sancho should be given that chance. The 40-year-old highlighted how Sir Alex Ferguson would have immediately fired Sancho if he had still been in charge during an appearance on The United Stand.
"It is completely insane.Jadon Sancho would never play for Manchester United if Alex Ferguson were the manager and he did this, according to Foster.
He wouldn't be permitted near the practice field and would never be able to play for this team. It is impolite, emotional, retaliatory, and petulant.
"It suddenly turns into a huge storm, and everyone is wondering what happened. Has Ten Hag lost the dressing room? What actually happened during the training sessions?
"If Sancho is right and it has nothing to do with training, great. You should be working hard and applying yourself.
The bare minimum is that. As long as that is the case, I don't blame Ten Hag in the least.
Player has created a 'massive problem' for himself
Foster stated, "Jadon Sancho is going to have a huge problem because of this.
Other clubs see that and wouldn't want someone who acts this way either, she said.
Sancho may be tried for transfer by Manchester United in January if he refuses to give in. They won't want Sancho to stay on the team and pout, as that would damage the atmosphere in the locker room.
Sancho has previously been connected to shocking transfers to Chelsea or Tottenham. Foster points out that if his attitude is as horrible as it is being painted to be, those teams could be reluctant to sign him.
It might be a good idea for Sancho to rejoin Borussia Dortmund in order to return to Germany. The 23-year-old was outstanding for Dortmund and scored 50 goals in 137 games, earning him a high-paying transfer to Old Trafford.
While also refusing to give up on his Man Utd ambition, Mason Greenwood has posted his first message as a Getafe player, according to sources.