Spurs are ready to make an opening offer for Serie A midfielder
Bryan Cristante, a midfielder for AS Roma, is reportedly the target of Tottenham Hotspur, who is gearing up to make a bid.
With Jose Mourinho, Cristante has played a variety of positions, including number six, center back, and box-to-box midfielder. The 28-year-old has been an essential member of the Giallorossi midfield for many years.
The Italian is viewed as a "perfect fit" for the Australian coach Steve Prestecoglou's 4-2-3-1 formation. Tottenham's interest in the player was revealed last week when Il Romanista revealed that the player was on the team.
The Serie A team, according to the publication, views the seasoned midfielder as "irreplaceable," and Jose Mourinho is reportedly "desperate" to hang onto the player.
Tottenham readying offer for Bryan Cristante
It has recently been reported by Il Messaggero that Spurs, who are trying to strengthen their midfield, are taking notice of Cristante's efforts this season.
According to the magazine, the Lilywhites are now prepared to make the Italy international an offer of €30 million (£26.2).
The Stadio Olimpico administration is said to find it "difficult" to reject such an offer from the Premier League team.
The kind of midfielders Tottenham is reportedly interested in are evident from the profiles of players like André Trindade, Bryan Cristante, and Kalvin Phillips. It's evident that Postecoglou would like to add a flexible squad member to the roster rather than recruit a starter who would be certain to start in place of Hojbjerg.
Tottenham Hotspur continues to be linked with a move for the Roma midfielder Bryan Cristante.
Tottenham is reportedly interested in the midfield player and would be willing to invest €30 million for him next summer, according to a report from Il Messaggero via Tuttomercatoweb.
The €30 million "offer would be difficult to say no to," the story continues.
Despite Roma's low resources, Cristante has established himself as a vital member of the team. They would undoubtedly find the rumored €30 million deal to be an alluring offer, but it is unclear how things would turn out.
Tottenham's midfield has to be strengthened in terms of quality and depth, and Cristante will provide the team greater toughness and defensive protection.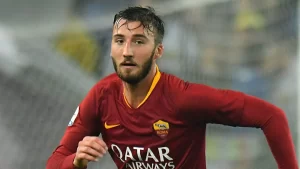 The North London club has been connected to the Danish international Pierre-Emile Hojbjerg, who might be replaced by Cristante in the summer. Whether all parties can reach a consensus in the upcoming months is still up in the air.
Since Cristante is currently at the height of his abilities, he will find it appealing to go to the Premier League. He'll want to put himself through the paces and establish his mettle in English football.
He undoubtedly have the talent to succeed in the Premier League, and for the stated price, he may prove to be a worthwhile addition.
With his arrival, the Spurs would also be able to rotate important players like Pape Matar Sarr and Yves Bissouma.
READ MORE:
Tottenham Hotspur confirms its transfer stance as Barcelona considers a January deal.