Despite the fact that James Maddison now represents Tottenham Hotspur, Perry Groves has acknowledged that he is a tremendous fan of the player.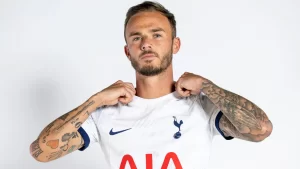 Groves was speaking on talkSPORT at the time, and the England international had just moved from Leicester City to North London and was off to a terrific start.
James Maddison has been outstanding for Tottenham since his arrival. During the opening-day tie with Brentford, he contributed two assists. He then put on exhibitions versus Manchester United and Bournemouth.
At the weekend's match against the Cherries, he scored his debut goal. And the early indications point to him being a fantastic addition for Ange Postecoglou's team.
Groves lauds Tottenham summer signing Maddison
Maddison has already been named the team's second vice captain. And he is so crucial to the way Postecoglou has Tottenham playing right now.
Of course, Groves spent the majority of his career at Arsenal. It was evidently difficult for him to praise a Tottenham player, especially one who has the ability to demolish any Premier League squad.
But he acknowledged that, as Maddison began his career at Tottenham, he can't help but enjoy seeing him play.
"I shouldn't like him as a player, playing for them, but I'm kind of drawn to him. However, I do," he said to talkSPORT.
"I appreciate his persona, his snarkiness, the way he plays, and the way he interviews incredibly well… Now I have to put a stop to it.
"That is my confession, and I am so sorry."
Tottenham's transition to life without Harry Kane has unquestionably been much facilitated by Maddison. Spurs supporters may naturally speculate what would have happened if Kane and Maddison had teamed up.
But for his new team, the attacking midfielder is already having a significant influence. More goals have been directly credited to him this season than to any other Spurs player.
And when the front four play together more frequently, his contribution is only expected to rise.
Arsenal supporters are unlikely to acknowledge it, but it looks Tottenham's attacking midfield acquisition this summer has adapted far more quickly than the Gunners'.