Turkish media sources suggest that Tottenham Hotspur's Davinson Sanchez might join Galatasaray.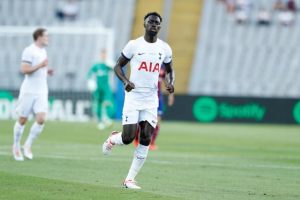 The defender and the Istanbul club have reportedly agreed on a three-year contract with an additional year's option, according to Turkish journalist Yaz Sabuncuolu.
The Tottenham player, according to Sabuncuolu, allegedly turned down offers from Spartak Moscow and Rennes in favor of signing with the Turkish champions.
He continues by saying that the 27-year-old will visit Istanbul when Galatasaray and Spurs reach a deal, which hasn't happened yet.
Additionally, according to Akşam, the center-back and Galatasaray have a three-year contract with a one-year extension option.
Galatasaray is eager to finalize this transaction in the next few hours so that they may add him to the Champions League roster before the Turkish summer transfer window closes later this month. The deadline, according to UEFA, is on September 4 till 11 p.m. BST.
As a result, Galatasaray has "stepped on the gas" to reach an agreement with Tottenham for the Colombian international, and Akşam reports that the two sides' negotiations have "reached the final stage."
Sanchez's deal with the north London club runs through 2024, and neither Sabuncuolu nor Akşam indicate the amount of money Spurs could make off of this deal.
The South American has played in just one league game this year, coming on as a substitute for the injured Cristian Romero against Brentford.
VIEW MORE:
Spurs: Davinson Sanchez transfer update
The central defender has made just one Premier League appearance this season…
Ange Postecoglou has given Tottenham Hotspur some much-needed ruthlessness on and off the field, leading to a fantastic and undefeated start to the Premier League season.
Despite moving club-record goal scorer Harry Kane to Bayern Munich this summer, the Lillywhites are in better shape than they have been in a long time. But now that other players have stepped up to fill the England captain's shining shoes, Spurs are soaring.
Hugo Lloris' lack of participation in the new period has demonstrated that it does not account for sentiment, and there are even rumors that Spurs may decide to end his contract with the team.
The North London club apparently agreed to a deal to sell an unpopular defender despite the fact that they are now unable to add any more reinforcements due to the closure of the English transfer market.
What's the latest Spurs transfer news?
With the addition of players like James Maddison, who has contributed twice each in scoring and setting up goals in four impressive Premier League games for his new club, Spurs had a fruitful summer in terms of signing new players.
The focus of Daniel Levy and company, it is said, has now shifted to saying goodbye to players who are not part of Postecoglou's plans for the current season.
A agreement to sell the defender to Galatasaray is reportedly close to being reached, making center-back Davinson Sanchez one of those players, according to writer Rudy Galetti. According to Galetti, a complete agreement is anticipated soon, and the last details of a transfer price are currently being discussed.
"Davinson Sanchez's transfer from Tottenham to Galatasaray is practically done. The entire agreement is anticipated soon; just the last specifics regarding the transfer price are now being discussed.
Given that the defender has only made one appearance for Spurs in the current season's four Premier League games, it should come as no surprise that he is on the verge of leaving North London this year.
Should Spurs sell Davinson Sanchez?
Sanchez may not be Spurs' top choice any longer, but without him, Postecoglou will only have access to Cristian Romero, Eric Dier, and Micky van de Ven as his senior center-back options until at least January. Ben Davies can play that position thanks to his versatility, but it's possible that the left-back won't have to fill it all the time.
Given that the defender is currently 27 years old, however, if Spurs acquire a fair enough amount and proceed to replace him in January, then Sanchez's exit may be considered as an appropriate one for all sides.
Since they won't have as many games to worry about this season after missing out on qualifying for Europe the previous campaign, the Lillywhites will hopefully be able to prevent injuries to their backline.
Read the most recent transfer news about Tottenham HERE.
Sanchez has also had difficulty keeping up his form, and previous Colombian manager Jorge Luis Pinto even criticized him, according to ESPN F90 and The Sun:
Davinson is not a center-back for the Colombian national team, I informed my son, a football-mad boy, four years ago.
"With all due respect, Davinson is a kind man who works hard and is in good health, but he lacks the skills, playing time, and other requirements that a center-back should have.
"The time of play, the management of game intent, the management of backs, the defensive breakdowns, the shock impact that you can't always be so aggressive."