After Richarlison, a Tottenham Hotspur speedster, was made fun of on social media for crying after Brazil's 5-1 victory against Bolivia, Jamie O'Hara has said that he "feels bad" for the player.
Social media then posted pictures of Richarlison sobbing on the sideline during a World Cup qualifier on Friday after being replaced, but O'Hara defended the player's "passion."
Adding that Richarlison's only goal is to succeed at the club and international levels, as he stated to talkSPORT, O'Hara noted that this is not the first time Tottenham's club-record transfer has responded in this manner.
It has been a genuine battle for the 26-year-old player ever since he switched from wearing Everton's colors to those of Spurs last summer.
He has yet to score more than one Premier League goal for the London club, and he has been forced to witness Brazil exit the 2022 World Cup in Qatar in a most depressing way.
Overall, it appears that the 45-cap Brazil star only needs some luck, with O'Hara standing by the player's reputation.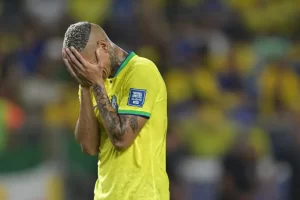 O'Hara said, "I have to talk about Richarlison. He was active on Twitter and other social media. During Brazil's 5-1 triumph over Bolivia, he was replaced. He missed a good opportunity, was ejected, and was sobbing on the bench.
"Yes, I did watch it. I remarked, "I kind of feel bad for him." He is a footballer that is having trouble with his form. attempting to locate the net's back. But his enthusiasm for his sport. In addition to wanting to succeed for Brazil, he also wants to succeed for Tottenham.
"You see a lot of players out there that don't truly give a monkey's about how they play and just pick up a pay check. Being unable to score has him sobbing on the bench.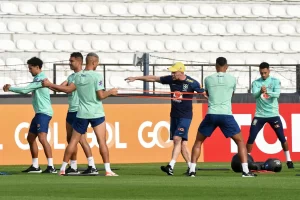 Pressure mounting on Richarlison
It's nice to feel bad for the guy, but that won't help him improve his performances because he needs to start producing right away.
Son Heung-min, who played in the middle for Tottenham and scored a hat-trick against Burnley, forced Ange Postecoglou to remove him from the starting lineup.
Brennan Johnson has now entered the structure. Another player will move up in the Tottenham hierarchy if Richarlison doesn't immediately regain his form.