At Tottenham Hotspur, there is a perception that Brooklyn Lyons-Foster, a young player, may never make the first team.
On the Last Word on Spurs Podcast as the international break was nearing to an end, journalist Alasdair Gold was interviewed.
Tottenham is now anticipating meeting Sheffield United on Saturday afternoon in North London.
After a stellar start to the season, Spurs fans will be eagerly anticipating the team's return to play.
Following a challenging campaign under Antonio Conte, Ange Postecoglou has sparked a complete turn around in the team's fortunes.
In order to get his team in shape, he had a lot of work to do over the summer, adding a few new players while also letting go of a number of others who were no longer needed.
But despite not being a part of his plans, Hugo Lloris and Eric Dier stayed at the club.
Both players were selected by Tottenham when they revealed their Premier League roster yesterday.
The lone senior player who was left off the roster was Brooklyn Lyons-Foster, who is 22 years old.
The perception at Tottenham right now is that Lyons-Foster might never advance to the first team.
It may be time to locate a loan move or other alternative since the versatile player is currently too old to play for the senior team.
Lyons-Foster unlikely to step up to Tottenham first team
In response to the question of whether it was odd for Spurs to select Alfie Whiteman over Lyons-Foster for the squad, Alasdair Gold responded, "That was the one that I must admit when I looked at it and I thought, [Alfie] Whiteman had ankle surgery, he's going to be out for a little while, I'm not entirely sure when he's coming back.
But let's face it, he's still going to be the fourth choice.
I've watched Brooklyn Lyons-Foster play in a variety of positions, so I'm sorry to bring this up again, but he's a fantastic player.
"Even this season alone, he has played defensive midfield and in the middle of the defense.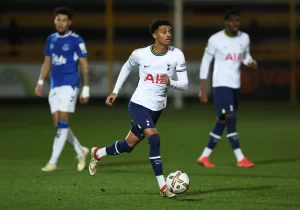 Lyons-Foster will be eager to disprove the doubters at Tottenham who doubt his ability to advance to the first team.
Despite sitting on the bench twice for the senior team, he has yet to make his Under-21s debut despite playing in every match so far this season.
It's challenging to imagine Lyons-Foster getting a chance anytime soon given that Postecoglou is a great supporter of Ashley Phillips and Alfie Dorrington.