Graham Roberts has blasted Paul Merson after the former Arsenal man predicted before the North London derby that Tottenham would be on the receiving end of a battering.
Most Arsenal supporters were fairly sure that they would win the match at the Emirates, which is maybe not unexpected given Tottenham's dismal track record there.
Merson predicted that Mikel Arteta's team would win 5-1 and insisted that not a single Tottenham player would make the Gunners' starting lineup (Sky Sports).
Spurs, on the other hand, put on a very mature performance on Sunday, coming back twice.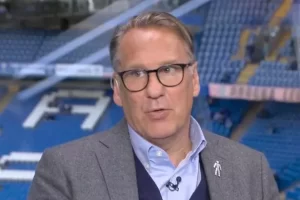 The team led by Ange Postecoglou did not waver from their stance and continued to play out from the back for the full 90 minutes, earning them a point in the process.
Graham Roberts hits out at Paul Merson after NLD
Merson took to social media to begrudgingly give credit to Tottenham for their display but Roberts was certainly not in a forgiving mood.
Here's how the Spurs legend responded to Merson's Tweet:
If I claimed I was certain we would get something from this game, I would be lying. Given how we are positioned, I thought a severe loss would be in store.
But after the first 25 or so minutes, when some of our players were a little uneasy, I was incredibly delighted with the maturity and spirit we displayed.
READ ALSO:
Tottenham win race for Luka Vuskovic, ready to join Spurs
Luka Vuskovic team-mates discussed the prospect of the Hajduk Split star joining Arsenal or Manchester City but Premier League rivals Tottenham Hotspur are now expected to win a £9 million race instead.
Fabrizio Romano claims that one of the most intriguing young defenders in Europe, despite attention from true European powerhouses like Manchester City, Bayern Munich, Paris Saint-Germain, and others, only has eyes for Tottenham Hotspur.
And everyone who watched Sunday's riveting North London derby should have understood the reason for it right away. There is a genuine sense of optimism in the air these days, which is a welcome change from the energy-sucking eras of Antonio Conte and Jose Mourinho. Spurs also have a coach in Ange Postecoglou who any player would like working with Straightforward and persuasive, yet with aspirations greater than Ayers Rock.
Tottenham Hotspur win Luka Vuskovic race
Luka Vuskovic's transfer to Tottenham, according to Romano, is a "done deal." And even though the teenager won't go to North London until 2025, when he turns 18, it's hard to predict where Spurs will be after two whole seasons under Postecoglou's leadership.
"Hajduk Split work really hard and truly have many amazing skills at the youth level. There are a lot of incredibly great young players, says Marco Fasotti, who currently competes for FC Universitatea Cluj in Romania.
"Luka Vuskovic, for instance, especially struck me in Hajduk. a central defender, age 16.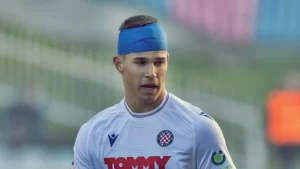 He was a regular starter for us in the final month of the previous season. In fact, many important clubs were shifted for him. We discussed Manchester City, Arsenal, Milan, and Juventus, but he could likely choose Tottenham right now.
"He is physically strong. He is charming and possesses a strong pass. Vuskovic is a really talented athlete. Very good.
Vuskovic, the youngest goalscorer in Hajduk Split's history, has already travelled to England with Sportske Novosti reporting that a £9 million announcement is imminent.