West Ham midfielder Lucas Paqueta has said the confidence is high in the camp despite the loss to Liverpool at the weekend.
Similar to the Man City game a week earlier, the result left West Ham feeling a little hard-done by considering the performance that was put on display. However, our Hammers number 10 once again put on an excellent performance.
Paqueta, though, said that the team is in good spirits following what has ultimately been a very promising start to the season in general while speaking to the club's official website.
Despite the disappointment of the defeat, everyone is in high spirits, remarked the Brazilian international. "That shows how far we've come, and we must continue to have faith in that.
"I believe the season has begun positively for us. We currently have 10 points despite playing Brighton, Chelsea, City, and Liverpool, four incredibly tough opponents.
"So I think it's a good start, and we'll keep working hard and keep the confidence in the camp high so we can keep on winning more points," he said.
The midfielder also praised Jarrod Bowen, his teammate and the day's goal scorer, saying they are forming a particular bond on the field. Additionally, he provided additional evaluation quotes in which he said that the team had fared better this year than any other club, even Tottenham. Even though West Ham lost to Liverpool and Spurs are still unbeaten, Lucas Paqueta exudes a lot of confidence in his comments.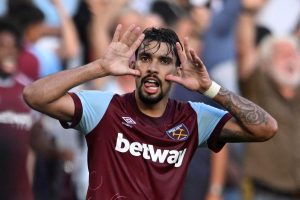 Since we've been playing together for a year, Paqueta continued, "Jarrod is a wonderful player, and I think we're understanding each other more out on the pitch.
"I believe that at that very time, he understood my interests and I understood how he like to run. That's why I'm glad it's working out for us and that he's achieving his objective. We must now recoup so we can play again soon.