Glenn Hoddle thinks Oliver Skipp was ordered to play the incorrect position against Liverpool on Saturday by Tottenham Hotspur boss Ange Postecoglou.
Hoddle was speaking on The Final Word when he covered the strategies used by Tottenham in their thrilling weekend victory.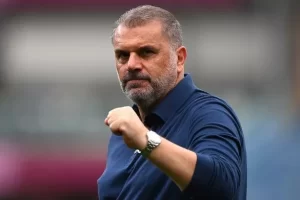 Ange Postecoglou would have been overjoyed if his team had defeated a very capable Liverpool team and walked away with three points.
Following Curtis Jones' dismissal, the cliche that it's difficult to play against ten men was thrown around.
Following Diogo Jota's departure, playing against nine men seemed to be much more challenging, but Spurs eventually scored in the 96th minute.
Tottenham didn't make things simple, though, as they appeared to be at a loss for how to make opportunities against a team that was attempting to hang on for a point.
One of Postecoglou's replacements was Oliver Skipp, although Glenn Hoddle believed he had given the 23-year-old some ineffective instructions.
Although the midfielder isn't well renowned for his attacking contributions, when he has the ball, he transfers it around the pitch fast.
With teenage forward Jamie Donley on the bench and in outstanding form, that wasn't really what Spurs needed at the time.
Hoddle is not pleased with Tottenham's introduction of Skipp.
SPEAKING about how Tottenham went about breaking down Liverpool's nine-man block,
Hoddle said: "I think there's players on the pitch, if there's real leadership in there, they can spot it.
"At the end of the day, they came in at half-time Tottenham, they had a chance against ten men, I didn't see it once.
"[Oliver] Skipp comes on, he's told to make the runs inside, like we've just seen [Destiny] Udogie do.
"They're not the runs! I'm sorry, but they're not the runs.
"And in pre-season, you set your team up, you down to ten men, OK what are we going to do?
"This is our principle, we either go two banks of four and one upfront or whatever.
"But, on the other side of the fence, if we go against a team and they go down to ten men, this is what we do to opeN THEM UP
Hoddle is right to question why Postecoglou told Skipp to run inside when Tottenham needed to get the ball out wide.
The issue he had is Manor Solomon on the left is well known for cutting inside in order to create chances, but that meant he simply kept running into trouble.
Kulusevski wasn't sticking to the touchline either, but thankfully Pedro Porro was on hand to overlap to create the space needed to dig out one final chance that Joel Matip smashed past Alisson Becker.