Richarlison played brilliantly against Liverpool over the weekend, but Gary Neville noted that the Tottenham forward does appear awkward while using his weaker foot.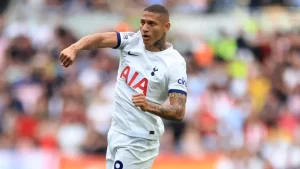 Richarlison is currently enjoying himself much more at Tottenham Hotspur under Ange Postecoglou, even though he is still far from flawless.
RIcharlison has scored twice so far this year—once in the Carabao Cup loss to Fulham and once in the thrilling 2-1 victory against Sheffield United last month (Transfermarkt).
In the weekend win over Liverpool, the Brazilian earned a crucial assist for playing the ball into the box for Heung-min Son following a flawless through ball from James Maddison.
In stark contrast, Richarlison battled with injuries and poor play last season, scoring just three goals overall and delaying his first Premier League goal until April (Transfermarkt).
Neville recognises Richarlison's frailty
On Saturday, Richarlison was given a starting spot against Liverpool, and he put forth a remarkable effort to lead the line, push high and fight for his team.
Richarlison has had a wonderful start to the season and had a strong performance over the weekend, but Gary Neville has noticed an area where the Spurs player can become better.
Neville said (30/09/23 at 6:55 p.m.) to Sky Sports Premier League: "He's done good out there Richarlison. On his left foot, he appears a touch unsteady, but he still poses a threat.
Tottenham Web Opinion
Richarlison is a striker, and as such, he will always be evaluated on the number of goals he scores, but if you go past that, you will see that he is doing an outstanding job for Spurs right now.