Tottenham Hotspur undoubtedly did not anticipate hearing that Davinson Sanchez had marked his Champions League debut for Galatasaray by having a significant influence in the final third when they traded him a month ago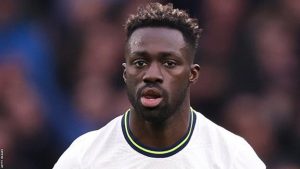 The Colombian made 207 appearances for Spurs across all competitions, but only managed one assist. But in his first month with Gala, he has already eclipsed that total.
On Tuesday night, Davinson Sanchez miraculously contributed two assists as the Turkish team defeated Manchester United and exited Old Trafford with a memorable victory.
Wilfried Zaha received the visitors' first goal thanks to the 27-year-old. And in the end, he assisted Mauro Icardi on what turned out to be the game-winning goal. It happened shortly after the striker missed the post with his penalty kick.
Galatasaray's Davinson Sanchez contributes two assists on his Champions League debut.
Of course, Sanchez assisting on two goals won't likely make Tottenham feel as though they erred by allowing him go in favour of Seppling during the setup of the home team's second goal.
Sadly, during his time in North London, he never came close to living up to expectations. And when Galatasaray came calling, it felt like good business to gain close to £13 million for him.
The defence had a mixed night.
No, Sanchez's performance that evening was not flawless. He obviously won't be happy that United scored twice because he slipped just before the home team's second goal.
He did, however, succeed in clearing the ball five times, which was more than any other player on the pitch, according to Whoscored. He triumphed in three aerial duels as well.
Having said that, Tottenham supporters will be happy to have Micky van de Ven back
READ ALSO:
Destiny Udogie is so happy that Tottenham went and signed £16m player this summer