How Scotland is remaining composed despite the eight-point margin puzzle during the Rugby World Cup
Scotland will make an effort to keep their composure as they compete with Ireland for a spot in the Rugby World Cup quarterfinals on Saturday in Paris, where a victory by an eight-point margin is necessary.
Going into the Pool B championship game, Gregor Townsend's team were down by four points to the Irish. Scotland would finish ahead of Ireland if they can defeat them and prevent them from receiving a bonus point. The head-to-head record would be utilized to distinguish between the two teams even though both would have 14 points.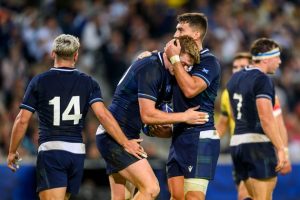 The assistant coach, Pete Horne, thinks it's crucial that Scotland doesn't try to win the match too soon and that the eight-point advantage doesn't become a burden. Though that will undoubtedly be on our minds, Horne added, "I don't think we'll be worrying too much about that in the first 20 minutes." We won't score four tries in the opening twenty. We will be aware of it because it would be foolish not to. We are confident that the style we play can put any team under pressure. We can cause trouble for anyone with the way we play rugby and the threats we make. We need to act quickly and precisely. It will be extremely difficult, but we've got high hopes and faith in our boys."
If the chance occurs to secure an eight-point victory, Horne stated it would be up to the team captains to respond accordingly. Although we are aware of it, he claimed, "it's not something we are actively bringing up in our meetings." The major players and decision-makers in the game "will be well aware of it, and as that game develops, it's something that may come into play a little more,"
The scenario for the group-decider is somewhat unlike from the 2019 World Cup in Japan, where Scotland needed to defeat the host country in their final pool encounter to prevent them from earning an extra point. As time dwindled away and Japan pushed through to win 28-21, Horne, who was playing that night, remembers the dreadful feeling. "I recall feeling like the game was slipping away from you as the clock started to run down,"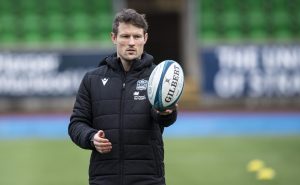 Horne recalled. You begin to feel a little apprehensive and start to worry about the outcomes as the minutes pass. Although [winning by a specific] margin will be at the back of our minds, we shouldn't focus on it excessively. Too much concentration on something causes you to lose track of the present-day events. Maintaining the present moment will be essential this weekend. You will lose perspective of what is truly going on if you become preoccupied with the final score.
Horne was effusive in his admiration for an Irish team that has topped the world rankings for 14 months, won a Test series in New Zealand, and is the Six Nations grand slam champions. Scotland will enter the game on Saturday as significant underdogs. He made a point of praising their defense in contrast to South Africa, who Scotland struggled to beat. Horne observed that the Springboks were much more careless with their linespeed. "The Irish team has far more control and much stronger connections. They are a difficult team to defeat because they are so well-organized. They have some exceptional people. One of the best at holding and holding, then snapping on passes, getting out in back, and making excellent decisions is Garry Ringrose.