BBC pundit, Garth Crooks says Tottenham coach must act before £25m player costs the club
Garth Crooks thinks that Yves Bissouma's Saturday red card will cost the club money, so the Tottenham Hotspur coaching staff needs to take action right away.

Crooks was speaking to BBC Sport following Spurs' 1-0 victory, which keeps Ange Postecoglou's team atop the Premier League standings going into the international break.

For the first time this season, Yves Bissouma is definitely receiving negative feedback. After such a challenging first year in North London, the Mali international has been exceptional thus far, demonstrating a genuine point.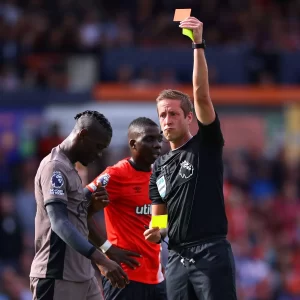 Garth Crooks criticises Yves Bissouma
In contrast, at Kenilworth Road, he truly let the squad down. During the first half of Tottenham's trip to Luton, Bissouma received two yellow cards in around 10 minutes.
He deliberately stopped the home team's counterattack, which prompted the first warning. After diving on the edge of the penalty area for the Hatters, he was later expelled shortly after. The referee made a ruling that was completely accurate, according to replays.
Spurs still succeeded, which is good news for Bissouma. The 26-year-old should still be held accountable for his mistake, in Garth Crooks' opinion.
Why Yves Bissouma thought it was a good idea to dive after already receiving a booking earlier in the game is beyond comprehension, he told BBC Sport. "Son Heung-min and Richarlison were well off the pace."
"His second caution was entirely justified, and such carelessness needs to be addressed by Tottenham's coaching staff as soon as possible before a more costly situation arises against a much bigger club," said the coach of Tottenham.
Spurs have a point to prove with midfielder now suspended
To be fair to Bissouma, it's not unusual for officials to signal play to continue when a player flagrantly goes to the ground without being fouled. Furthermore, he presumably expected the defender to extend a leg.
In spite of everything, the dive was horrible. Now he will miss one game for Tottenham. In addition, he has returned to having received four cautions, putting him one caution away from another one-game suspension.
How the Spurs do without him will be interesting to watch. Up to this point, the 25 million pound man has excelled. Now that the season has begun, Tottenham is being mentioned frequently as a potential title challenger.