Ian Wright, a former player for Arsenal, has given his opinion on the likelihood that Tottenham, a bitter rival of his old club, will win the Premier League championship. The two North London clubs are tied for first place in the standings going into the October international break, each with 20 points out of a possible 24. Only on goals scored, Spurs is ahead of Arsenal.
Ange Postecoglou's team defeated Luton Town 1-0 to start match week seven, and Arsenal won their match against Manchester City 1-0 to cap off the weekend. The Gunners' victory may seem superior on paper, but Tottenham was forced to defeat the Hatters in the second half while playing with 10 men after Yves Bissouma was dismissed shortly before halftime.
Fortunately, a goal by Micky van de Ven early on spared Bissouma's face, and Spurs went on to defend bravely for the next 40 minutes after the Dutch international's first goal for the team.Postecoglou lauded van de Ven after the game, which was understandable considering he scored the game-winning goal, but he appeared more thrilled by his defensive partner Cristian Romero's performance.
"They've been great all year, both of them, the whole back four and Vic [Guglielmo Vicario], he admitted in his post-match press conference. "I think a big part of that is Romero because when you look at it, it's Destiny's first year in the Premier League, Micky's first year in the Premier League, Vic's first year and Porro just beginning his Premier League career, but they've got a World Cup winner beside them and I think he makes them feel like they belong. They feel really comfortable having him beside them and you can see them flourish.
With the way he handled it, Micky was fantastic today. As you know, Micky has tremendous physical qualities, but he's also developing and evolving as a player. We knew playing here against Luton would require us to deal with a lot of long balls and aggression.
Although it is still early in the season, Postecoglou will be happy to hear that Spurs kept another clean sheet and earned three points. Spurs have every right to be there and to be considered a title contender in the Premier League. A statistic from Match of the Day that showed teams who had 20+ points after eight games had won the championship on 11 occasions emphasised this fact.
With a return to the Champions League a feasible goal for the season, the stat about teams being over the 20-point mark gives Spurs real confidence they can achieve that. Of the 28 teams to have been on this number in previous campaigns, only two have not claimed a top four spot.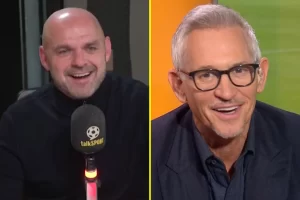 Gary Lineker and Danny Murphy were the pair discussing Spurs' chances with the stat displayed on the screen and the pair couldn't resist a jibe at Ian Wright. "This is exciting for Tottenham fans, 28 teams, 26 of them with a start like this have ended up in the top four," Murphy said.
Lineker then replied: "Never mind that, 11 of them have been champions Danny." To which he responded: "I didn't want to say that because Wrighty is here and I didn't want to worry you." However, the Arsenal icon was quick to point out his dominant feeling on Spurs winning the league. "I'm not worried," he said firmly before he broke out into a laugh.
If Spurs do continue at this trajectory though, while they will certainly be considered the underdogs, Arsenal and Manchester City may start to become worried.