During the summer transfer window, Tottenham Hotspur sold Harry Kane to Bayern Munich.
According to rumors, the 30-year-old England international cost the German team somewhere in the neighborhood of £100 million. Uli Hoeness, the club's executive director, has since disclosed, via The Sun, that Bayern Munich paid £82 million to acquire the striker.
The German club may have made a great business decision by paying £82 million to acquire one of the best players in the world at the age of 30. If he can perform well and lead the team to significant trophies this season, he might wind up proving to be a great deal.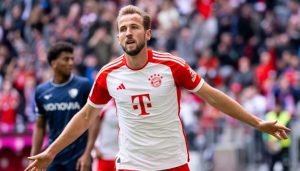 One of the best goal scorers of his time without a doubt, Kane has made a quick impression on the German team. He signed a four-year contract with the Bundesliga champions and has nine goals in 10 games. In order to assist the German club win significant trophies, the striker will want to perform at a high level in the upcoming seasons as well. At the club level, Kane has yet to take home a single trophy, so he'll be hoping to break the drought soon.
Tottenham has a buyback clause in the striker's contract, according to a report in the Sun, although it is unclear at this time whether the club will choose to do so in the near future. He is without a doubt one of Tottenham's best players, and this season they will undoubtedly be without someone of his caliber.
Read More:
James Maddison uses the term 'Ange-ball' when explaining his Spurs aims
James Maddison maintained there is still more to come from this Tottenham Hotspur team and detailed how the players are building the mentality of being a "top team" after the team's valiant victory over Luton Town at the weekend.

This season, Spurs have beaten teams like Manchester United and Liverpool, but defeating newly promoted Luton Town on Saturday afternoon was just as challenging for them.

Yves Bissouma's careless dive and subsequent dismissal made their task even more difficult, but the Lilywhites ultimately prevailed courtesy to a skillfully constructed goal by Micky van de Ven.

For Spurs to win the match, the Dutch defender scored his first goal, but it all came from some master stroke from Spurs new star, James Maddison.
It keeps Ange Postecoglou's team's undefeated start to the season alive and marks Maddison's sixth assist of the year so far (according to Transfermarkt). As the Premier League season comes to an end, Spurs are currently in first place.
Spurs have more to give, says James Maddison
Maddison discussed the weekend's victory and what this Spurs team has to offer for the remainder of the season and beyond in an interview with Yahoo Sports.
Regarding the most recent triumph, he said: "Winning at Luton nets you the same three points as winning at home against Liverpool and United. It's equally crucial. I adored the boys' personalities to the hilt.
"A season consists of 38 games, and not every one of them will be attractive, goal-scoring, free-flowing 'AngeBall'. You need to occasionally dig deep and demonstrate grit and resolve.
"Top teams are frequently questioned about having that side by the public. The best teams all do, and we aspire to be among them. I'm so happy we showed that."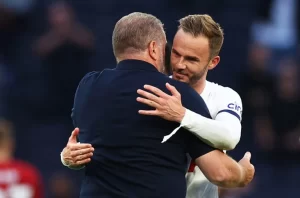 We're so early in the manager's tenure, so Maddison isn't getting ahead of herself. We have just begun. Even during training, the messages he gives us are occasionally still fresh, and we are still working on them. We haven't even been here three years.
Of course, being up top is preferable to being at the other end. I know because I've done both. I simply want to keep doing that and working, and that will leave things as they are.
And Maddison added, when contemplating the prospect of a title challenge: "I probably didn't expect us to be top of the league, unbeaten, no. Realistically, it is impossible to predict that far in advance. You just want to get off to a good start, and that's what we want to do.
All wins have the same worth, which is a really intriguing point made by Maddison, and he's entirely correct. It was difficult against Luton when it shouldn't have been, but the team's character will grow as a result of the win, and as he points out, battling and grinding out victories of that nature is the true mark of a strong side.