Paul Merson discusses Tottenham's Premier League title run this Season
Paul Merson believes Tottenham Hotspur should concentrate on finishing in the top four even if the North London team is now leading the Premier League. Merson has been evaluating Tottenham Hotspur's chances of challenging for the championship.

Spurs' season is off to the best start under new boss Ange Postecoglou. The Lilywhites lead the Premier League going into the international break after winning six and drawing two of their first eight league games.

The group has embraced Ange-ball with great speed, as seen by their performances, which have delighted Spurs supporters and produced favorable outcomes. With players like Heung-min Son and Yves Bissouma returning to form, it appears the Australian is getting the best out of his team.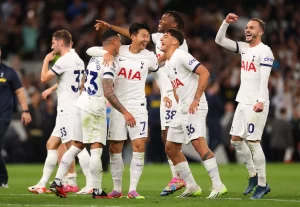 James Maddison, Guglielmo Vicario, and Micky van de Ven—all summer additions—are also thriving in their new environments.
Should Spurs settle for a top-four spot?
However, it is unclear how long Spurs can stay in the race, even though they are already being regarded as possible title challengers. Paul Merson, in an interview with Sky Sports, expressed his doubt that the Lilywhites will be the team to beat at the end of the season.
After defeating Luton, Merson remarked, "It was a funny game." The opening fifteen minutes of the match had me sitting there thinking, "Given how many chances they missed, the game would have been over if Harry Kane was playing now."
"After that, aside from the goal, Spurs didn't seem to be able to score." Let's give them credit for persevering through a situation when they were down to 10 guys and managing to get through.
It is difficult even if I am aware that Luton is at the bottom. Although I believe Spurs finally dug in and shown a new side to Tottenham, they did give up a few chances.
In response to a question about where Spurs would finish this season, Merson said, "Fair play to them, they are top of the league right now. would they stay there? No, but that's not the main argument.
"Next season would be an incredible season for Tottenham if they were to get into the Champions League."
Though I sincerely don't see us contending for the championship this season, it's great to dream and perhaps we can stay in the race for as long as feasible. I would be more than satisfied with a top-four finish, as that would surpass my initial predictions for us at the beginning of the campaign.
Tottenham player ranked higher than Declan Rice and Lionel Messi this season so far