Brazil may be Richarlison's undoing if a £45 million Arsenal player is waiting in line.
Richarlison, a forward for Tottenham, hasn't exactly had the finest past 12 months for his team or his country.
Even though he scored a late goal against Sheffield United, Richarlison has struggled to find consistency at Spurs. Heung-Min Son has even moved him out of the center-forward position.
Due to his inability to score in Brazil's match against Venezuela on Thursday night, Richarlison is currently six goals short of being eligible for the Selecao. Additionally, and this is very embarrassing, an Arsenal player may potentially take his spot.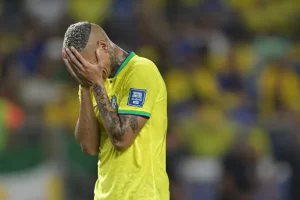 The decision will, of course, please Jesus and Arsenal supporters alike. It is also up for discussion, though, if the forward for the Gunners can score as well.
Simply said, not happening
Simply put, since joining the Spurs, it hasn't happened at all for Richardson. Though he still finds it difficult to break through, Harry Kane's exit ought to have created an opportunity for him as well.
Regretfully, all that's required of a striker is goal scoring, particularly for Brazil's number nine. And that is not what Richarlison is doing at the moment.
For Gabriel Jesus – who Arsenal actually paid £45m for, some £15m less than Richarlison cost – this could be an opportunity for him to cement his place in the XI for Brazil and also get among the goals to boost his confidence in an Arsenal shirt as well.
We all know Jesus' own record isn't all that either. But six games is a long time for a Brazilian number nine to go without scoring and Jesus will be chomping at the bit to show that the red side of London can provide the solution for the Selecao.