Tottenham Hotspur lining up €60m 'fantastic' striker during the winter ransfer window
In an effort to increase their position in the standings, Tottenham Hotspur is prepared to acquire a striker during the winter transfer window.
In an effort to build on their recent success, Tottenham Hotspur is prepared to spend €60 million on a fantastic striker and bring him to north London.
Since they had scored more goals than their rivals from north London, Arsenal, who are tied on points, the Lilywhites entered the international break in first place. Spurs are possibly unexpectedly in the title battle early thanks to Ange Postecoglou's bold, open style of play, which has managed to catch the attention of the club.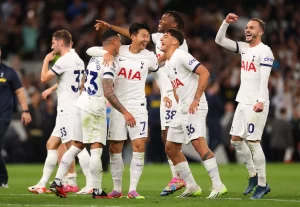 However, maintaining this form may be challenging because Harry Kane, the club's all-time leading scorer, will not have a direct replacement over the summer. For the benefit of Spurs supporters, the team might soon make a move to keep Postecoglou's team competitive.
According to Football365, Tottenham is interested in moving Jonathan David, a forward for Lille, to the Premier League and they have a "firm intention" to bolster their front line.
David scored 26 goals for the Ligue 1 powerhouses last season and represented his country Canada at the World Cup. His star is only getting bigger. David is valued at €60 million by Transfermarkt, despite the article claiming that he may cost €40 million.
From a tactical standpoint, David would also be a fantastic fit for Tottenham.
The 23-year-old began his career more as a No. 10, but over the past few years, he has evolved to play a center-forward position. He is skilled at dropping deeper compared to players like Roberto Firmino, something that Harry Kane did during his later years in the Premier League to great effect.
Tottenham would have a completely new frontline in the next six months if they were to recruit another forward; Manor Solomon and Brennan Johnson also joined in the summer.
Richarlison has struggled in front of goal recently, therefore club captain Son Heung-min has been manning the front of the assault line.