In their dramatic World Cup quarterfinal matchup on Sunday in Paris, the Springboks defeated France by the slimmest of margins, and Cheslin Kolbe's stoppage of a goal-bound kick was crucial to that result.
Kolbe, Arendse, De Allende, and Etzebeth each scored a try for the Springboks, and Manie Libbok and Handre Pollard successfully kicked three conversions and a long-range penalty.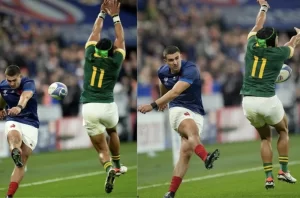 Cheslin Kolbe's charge down on Thomas Ramos' conversion kick was one of the pivotal moments that helped the Springboks win the match besides the converted scoring opportunities.
Peato Mauvaka, a French hooker, burst through the line from close range, and Thomas Ramos, a fullback, lined up the conversion. But Kolbe's charge at him entirely took him off guard because he was concentrating on his kick and timing the shot clock at the same time.
The Springbok flier left his mark the instant Ramos even hinted at moving towards the ball, and by the time Ramos struck the ball with his foot, Kolbe was near enough to charge it down and deny them two points.
The charge down has become a hot topic because the Springboks only had a one-point victory. France supporters claim that Kolbe began sprinting at the ball before the kicker even moved.
CHESLIN KOLBE SAYS HE DID NOTHING WRONG
However, Cheslin Kolbe, the man who pulled off the maneuver, promptly disproved those accusations by describing how he did it and why it was lawful because it was permitted under the rules of the game.
"I think it definitely helped that I played with Thomas [Ramos] for six years and knew what he was doing," he claimed.
Kolbe defended himself, saying, "I followed the rules exactly and was behind the line when he started his race. "I made an effort to run as quickly as I could to take it out. I intended to apply some pressure to him.
BOK BOSS BACKS BRILLIANT BOYTJIE
Kolbe's attempt to stop the conversion, according to Jacques Nienaber, demonstrated how the Boks were prepared to go to whatever lengths necessary to win on Sunday night.
"Cheslin's charge-down, you don't see that often – somebody chasing a lost cause," the Bok coach added.
"We were exposed a few times, but the players' scrambling and effort were enormous."