Joel Stransky kicked all of his team's points when the Springboks defeated New Zealand 15–12 in the final as a member of South Africa's legendary team that won the 1995 Rugby World Cup on home soil. The former fly-half recalls South Africa's victory over France in the quarterfinals and looks ahead to Saturday's semifinal matchup with England.
Forget about the outcome of the most recent World Cup final; history will have little to no bearing on this year's semifinal match between South Africa and England, the reigning champions.
England is hardly excellent, but given that they advanced to the semifinals, they cannot be entirely terrible.
Before we dive too further into that match's analysis, though, let's just say that South Africa's quarterfinal matchup with France was everything you'd expect from two
It was always going to be one of those massive games with enormous collisions since both sides have large, powerful ball carriers and good kicking games.
That was horrible.
I believed that we won on a couple occasions. You have to take luck as it comes, and I predict Rassie Erasmus will refrain from filming a video this time.
However, I also think Erasmus or Jacques Nienaber, whoever makes those decisions, did a great job with the tactical adjustments made right after halftime.
I wondered, "what are they doing?" when Siya Kolisi and Duane Vermeulen walked off. Deon Fourie and Kwagga Smith, two players who are great at the breakdown, then entered the game, and as a result, we slowed the ball down, forced a few turnovers, and earned a few penalties while forcing France to chase the ball a little bit. Strategically, we executed it perfectly.
No single factor, but rather a combination of factors, helped us win the game. The conversion attempt by Thomas Ramos was defended against by Cheslin Kolbe. We never witness that.
He was brave, tenacious, and willing to try. Wonderfully, it was.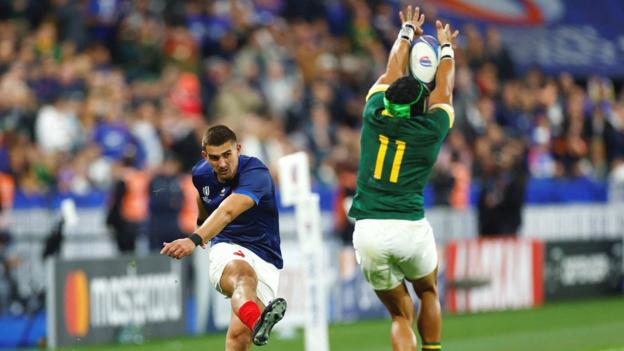 'A great advert for our wonderful game'
The quarterfinal matchup between the Springboks and Les Blues at the Rugby World Cup has been one of many memorable ones over the years.
However, I believe that the two matches in Paris—New Zealand defeating Ireland and South Africa defeating France—were possibly the two best back-to-back quarterfinals ever.
Although entertaining, the other two games may not have been as heated. They were unquestionably not as aggressive or combative.
The four teams in Paris had outstanding discipline, and the work was of exceptional quality.
In the end, we enjoyed two spectacular performances and a fantastic promotion of our fantastic game.
Because of the amazing vibe in the nation, I must say that I felt awful for France. They truly believed in their group and had such high expectations, so it is rather upsetting. But it goes without saying that I am glad the Boks were able to.
I would describe the messages I got from home as being relieved after a long day's work.
I do not believe that the Farrell decision will be overturned.
In an easy pool, England was a touch Jekyll and Hyde, and in the quarterfinals, they faced a Fijian side that hadn't exactly been on fire.
They will, nonetheless, have gained confidence from their World Cup success, and Steve Borthwick attempted to go on a mini-rant about it, claiming that everyone had written them off. They
If you think about how good Ben Earl and Courtney Lawes were at the weekend, there are good players in that side. Manu Tuilagi makes a difference when carrying straight and hard while Alex Mitchell has impressed at scrum-half with his control and accurate box kicks.
When it comes to selection to face South Africa in the semis, I cannot see them reversing the Owen Farrell/George Ford decision at fly-half because you do not want to be giving away too much in that midfield channel against big, ball-carrying teams like South Africa.
Farrell defends that channel really well and the combination with Tuilagi and Joe Marchant at 10, 12 and 13 is much more solid.
South Africa also use a lot of box kicks and up-and-unders so you need wingers and a full-back who can contest the aerial battle.
Because of this, I wouldn't be shocked if Freddy Steward took Marcus Smith's place.
As for the victory over France, I think South Africa's half-backs played well.
Cobus Reinach's kicking was precise, and his pace gives an attack a genuine sense of urgency.
When he entered the game, Faf de Klerk tried to make a difference, but it was physically challenging. He moves around a lot, but I'm not sure if that is where he belongs.
Manie Libbok did a good job of controlling the game at fly-half, and we were playing well until he was sent out.
I am not always sure Handre Pollard frees up the outside backs that well, he stands and delivers a little.
His kicking game is on point and he is rock solid in defence, but England do not offer a massive physical threat like the French, so I would not change a winning combination.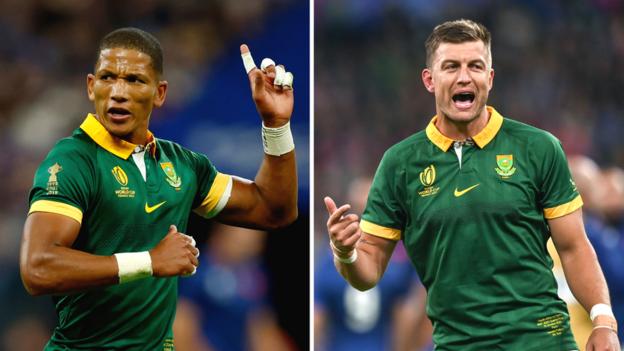 'I will fall over backwards if South Africa or New Zealand lose'
South African supporters like seeing the Springboks defeat England.
Sometimes I can't explain why. It might be historical.
However, the teams won't be reflecting on the final from four years ago, when South Africa defeated England in Japan.
Both will analyze games from more recent years. In order to formulate a strategy, they will consider the results of the pool games and the quarterfinals, going player by player and phase by phase.
I believe that progress is essential for England. If they do, I believe it will be difficult to track them down, but I would still support the Springboks in doing so.
On their day, England can raise their game but I do not think they will be putting the fear of God into South Africa or New Zealand, who I expect to beat Argentina.
You can never be 100% sure but I will fall over backwards if either South Africa or New Zealand lose in the semi-finals.