Dylan Hartley: My five-point plan to beat the Springboks
If England hopes to make it to the Rugby World Cup final next weekend, they first need to mentally prepare for physical suffering.
In the eight Test matches I played for England versus South Africa between 2008 and 2018, we were victorious in the final two. So you could say that I figured out how to beat them bit by bit.
To become a Bok, you have to match their physical attributes and use cunning or other strategies to make them think and act against their will. To take people off guard, you must alter the scene. England needs to have faith in their ability to prevail in this Saturday's World Cup semifinal, even though it won't be simple at all.
Scrums – be smart and fast
Being brick shithouses by nature, South Africans are known for their large packs and their enjoyment of shoving others around. To put it briefly, they can afford to be manly. I've heard from former players about a particular coach who chose his pack based primarily on size and strength. So you can forget about playing in his back row unless you are at least 6 feet 4 inches and weigh more than 110 kilograms.
The 2003 World Cup-winning pack was dubbed "white orcs on steroids" by the Kiwi media, and the England pack I was in was always rather large as well. Throughout my profession, I consistently weighed five to ten kg more than the majority of hookers, and I believe this helped me get chosen because weight is critical with scrummaging.
There is not the same bulk in the latest England pack. Without a doubt, they are not tiny, but South Africa prevails in the weigh-in man-to-man. Therefore, England must be astute, play to their advantages, and employ dynamism and pace without running from the impending physical battle.
"Speed kills" is how I usually put it here, but in a positive manner! A highly structured game is what South Africa wants. It could be an issue that England feels most at ease playing in this manner as well. Indeed, the two teams employ comparable strategies. However, engaging in an arm wrestle is not the ideal strategy if you want to defeat the Boks. To defeat this team, speed will be essential.
In England's quarterfinal match against Fiji, Owen Farrell added pace; he and his team need to replicate that. In order to counteract each other's advantages, England's scrum halves, Danny Care and Alex Mitchell, must play aggressively and get the ball in and out frequently. If you give the Boks something haphazard or unanticipated, they can become irate that the game isn't proceeding as planned. Because they will be at ease going through a training scenario they have performed a hundred times if you don't force them to think.
Kicking strategy and the aerial battle
Second-guessing: the battle of wits
In addition to head coach Jacques Nienaber, Rassie Erasmus is the director of rugby for the Boks and a true scholar of the game. When you ask Erasmus why his team had a scrum in their 22 during the France game, he doesn't duck the question—rather, he fills you in on everything. They were concerned that they would not receive enough scrums, and they saw nothing positive in settling for a standard mark that every other side would 100% punt upfield or off the field. Suddenly, a call that appears absurd has a purpose and clarity. Observe also how Damien Willemse made the choice without hesitation; this demonstrates how prepared and on the same page South Africa is.
As a result, Steve Borthwick, the head coach of England, will have had to put in extra hours. He selects teams based on analysis, as we already know, and he will work to deny South Africa those opportunities. Because he worries about a mark turning into a scrum, I doubt he'll go so far as to order no kicks into the 22, but he will have the scrum tuned in to the prospect — see above! England should ideally be so prepared that they can detect when the opposition is attempting to expose you during a game and adjust accordingly.
The physical battle
I have some of the best players in South Africa as opponents. Victor Matfield, Cobus Reinach, and Heinrich Brussow were my teammates at Northampton, and they were all fantastic men who played hard but were the first to have a beer with the opponents afterward. They exemplified everything that was great about South African rugby players. Furthermore, every South African you spend any time with will tell you how much they love to despise the English!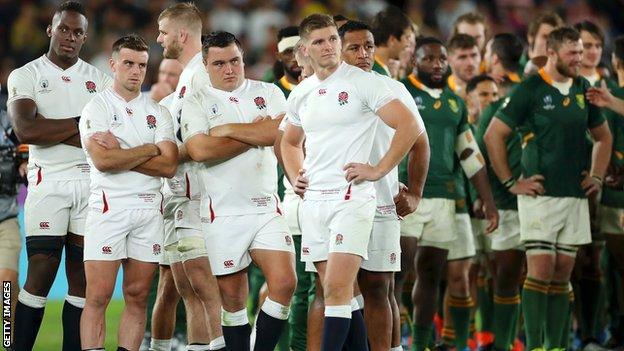 I believe that South Africa's version 2023 has so much more to offer than just athletic prowess, and that presents England with its greatest challenge. Put your tin hat on and be physical back if they just employ one-out big physical runners. That's kind of the easiest part. The physical war is about to begin, and if you don't stop it, their wings will be scoring in the corner. So put on your shoulder pads and man the f**k up.
In that physical arena, people like Owen Farrell flourish. Do you recall his highlight-worthy tackle of Andre Esterhuizen during the 2018 Twickenham match, which we won by a point? Alright, so five years later, let's not pick fights over who thought that was a shoulder charge or not. The point was that Owen physically confronted them, and it's important to recall that he also stole the ball from Lood de Jager during the same game. The boys on the England squad adored such game-changing moments. When playing South Africa, you have to be prepared to endure physical agony and to give it back; I have faith that the England team this week will be up to the challenge.