South Africa have responded to the sickening death threats received by scrum half Cobus Reinach that have blighted the build-up to their Rugby World Cup semi-final against England.
Last weekend's quarterfinal round saw the Springboks defeat France 29-28 in one of the best World Cup games ever. As a result, Reinach, a French club rugby player for Montpellier, received a murder threat on social media.
The warning stated: "Dirty son of a b****, I pray that you get murdered by French people on the ground when you return to Montpellier. Gang of thieves, winning a championship is simple when you cheat.
Following the message was a photo of Reinach's young son with the remark, "Go and die."
Rassie Erasmus, the director of rugby for South Africa, commented on the threat on Twitter/X, saying: "Unfortunately, Cobus Reinach was the target of these threats! A mother and father find it offensive and upsetting to hear comments like that made about their son! However, we won't moan; instead, we'll carry on!
On Friday, just outside of Paris, Springboks assistant coach Mzwandile Stick addressed the threats in more detail and denounced the sender in a press conference on the eve of the game. Stick also said the French police were now looking into the incident.
"I am not stressed about it," said Stick. "But once again we are well aware of the situation with Cobus and his family.
"I can say right now that hooligans have no place in our game. We are here to represent South Africa, and the players perform their jobs to represent their country. If someone has an issue with that, it will be handled by the French government.
"We'll make sure that everyone on the club, including the management and our players, is protected. Again, there is no place in our game for that.
You have to accept that as a part of the game. I'm quite upset with whoever it was who delivered the word to the players. We'll continue making the people at home proud by doing everything in our power. It is currently with the French authorities.
Stick insisted that No. 9 Reinach is ready for the contest, and Reinach will continue to serve as the Springboks' starting scrum half against England on Saturday evening. The incumbent champions are strong favorites to advance to the final.
Cobus is appropriate, said Stick. He is surrounded by his family and is in a wonderful place.
The French security around our hotels deserves praise as well. Because of their superior level of protection, I don't believe there is any need for concern at the present.
READ ALSO
We are battle-hardened – Former Springbok Waylon Murray ahead of Rugby World Cup semi against England
Waylon Murray, a former center for South Africa and the Sharks, thinks that while other teams at this year's Rugby World Cup had metaphorical red carpets set out for them, the Springboks had a difficult journey to the semifinals and it should serve them well.
At the Vodacom Origins of Golf Wild Coast Pro-Am dinner, Murray was a guest of honor. He participated in a Q&A session with fellow former Springboks and Sharks icon Keegan Daniel, which naturally centered primarily on South Africa's semi-final match against England on Saturday in Paris.
The Springboks have been strengthened and refined by competing against Scotland, Ireland, and the hosts France, while England breezed through their pool and were fortunate to defeat Fiji in their quarterfinal, according to Murray, the current Director of Sport at Kearsney College outside of Durban.
"While the Springboks had some pivotal games, England had a simpler path to the semifinals. As a result of all the crashes, we might be a little battered, but Murray hoped it meant we were battle-hardened.
All about prep
"It all depends on how the Boks prepare, and we are confident that they will be prepared, particularly under pressure. The All Blacks and Springboks demonstrated class in the quarterfinals despite being accustomed to playing under pressure in World Cups.
"They have the ability to stand up when it counts and cross the finish line. It won't be simple to defeat Ireland and France, but that's the appeal of sports: they keep us on the tip of our seats.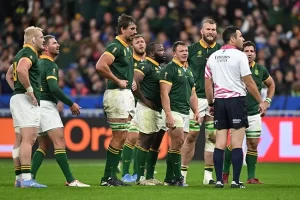 Springbok players understand their roles
"Sport is very relatable to business in the sense that if your players buy into your philosophy then you will get the best out of them. And both the Springboks and All Blacks coaches are very astute.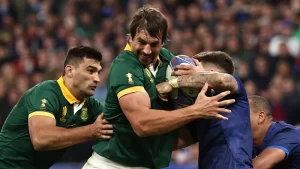 "Every Springbok squad member understands their role, whether it is starting, coming off the bench or not even playing. They are all playing for the same purpose and there is a massive amount of power in that," Daniel said.
Purpose is also a major part of Vodacom's identity and Murray, who played more than 50 Vodacom Super Rugby games, praised the mobile communications company for their wonderful contribution to the South African sporting space.
"Vodacom have been crucial in enabling professional rugby and other sports to operate at the highest level. They have been exceptional sponsors of rugby and sport in general because they are passionate about growing sport in areas that have not been exposed to the highest levels yet. They can be very proud of their role in our country's sporting success," Murray said.