He was the Premier League player of the month for September with six goals in his four appearances. Son has fired Ange Postecoglou's team to the top of the table, flourishing in an adjusted role. Indeed, it has been a new beginning for the South Korea international.
Son experienced a difficult season last year. Injury had limited his mobility. He admitted in the summer that his season had been "really disappointing." I couldn't play to my full potential due to physical limitations. I wanted to carry on because I did not want to disappoint anyone.
Your current nation or location does not allow you to access the video you are attempting to watch.
Check out Tottenham's first goal against Liverpool, scored by Heung-Min Son.
Whether the change is physical, mental, or both, Son has felt uplifted by Postecoglou's arrival. It had seemed as though Son was one of those who was affected by the Spurs-related gloom. His Premier League goal total from the previous season wasn't reached until April.
But this is more than just a change in attitude. Son's position on the team is also unique. In this regard, Kane's departure occurred at a favorable time in his own career. Son still moves quickly, but at age 31, he was prepared to return to a more important position on the team.
It seems like a logical progression for a player who, at 6'0″, is physically strong and capable of making a strong finish with both feet. While Son still wanders outside, Cristiano Ronaldo made the similar transition from the wing to the center. Kane's absence creates new opportunities.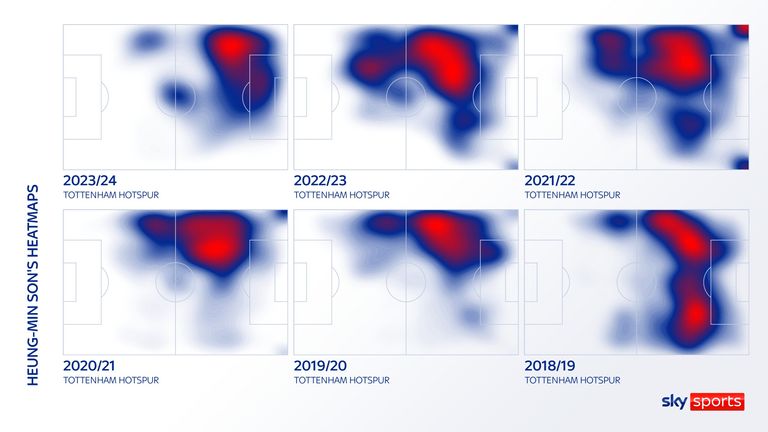 Now, he spends a lot more time working within the opponent's penalty area. A seismic shift in the numbers illustrates this. During this season, a player who generally had less than 10% of his touches in the box has had nearly 20% of them there.
A helpful example of that positional move is the fact that each of his six Premier League goals under Postecoglou have come from inside the area. He is the only competitor this season to have a higher score than Erling Haaland. Since the beginning of September, no one has scored more.
Under the Australian, it is clicking. In fact, considering that Postecoglou loves his attacker to go in behind and occupy centre-backs, Son might be more at home in this system than even Kane. Son is able to create room for playmaker James Maddison as a result.
Naturally, Kane would dive in and complete that task himself, and he did it very successfully. Son's development into a real striker is shown by the fact that he ranks fifth among players who challenge the defensive line, after Haaland, Nico Jackson, Ollie Watkins, and Dominic Solanke.
Was this always the vision? The reason why Postecoglou did not rush to reinvest funds following Kane's record-breaking sale? "It is not exactly why, but it is one of the reasons," said the Spurs boss after Son's hat-trick in their 5-2 win away to Burnley.
Watch Heung-Min Son's superb hat-trick in Tottenham's win over Burnley
"I have got a picture in my head of what I want the team to look like. It is about putting all the pieces together and, at the same time, not neglecting what is right in front of you. Sonny, whether he is playing central or wide, has got all the characteristics.
"He can play in any system, but the way we play, he is ideal."
That means pressing. Son's athleticism remains remarkable. He has covered more distance while sprinting to close down the opposition defenders than any other player in the Premier League so far this season. It sets the tone for Tottenham from the front.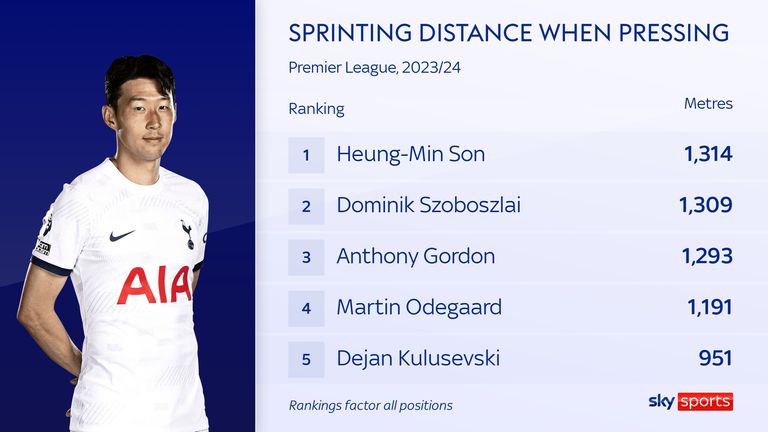 Postecoglou praised the player following their match against Arsenal, saying, "He has been outstanding as a leader and as a player." He just works so hard and is focused on the team when you put him in that situation. The team's interests come first in his mind.
What is best for the team is currently a fascinating discussion at Tottenham. Even now, it seems absurd to imply that losing one of their greatest players could be advantageous for them. With Bayern, Kane is thriving. It is too soon to declare that he won't be missed.
But Spurs still have a selfless forward who scores goals and creates space for those around him, one perfectly suited to the manager's new style of play. Right now, Kane's sale is working for Spurs. Improbable as it might have seemed, it is working for Son too.