"Too simple. It's too predictable.This was a quaking World Cup letdown after the tremendous sporting wonders that were produced in the same arena the previous weekend.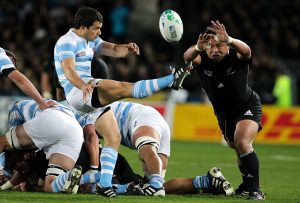 The unfortunate result of the unbalanced draw was an obvious mismatch at the Stade de France. This semifinal was so one-sided that it damaged the event's legitimacy after two quarterfinals that featured the best of top-tier test rugby.
"Argentina simply lacked the necessary experience. The mood had completely collapsed by the time the All Blacks scored their third try in sudden death at the end of the first half. Everyone anticipated the outcome.
"Ian Foster's team used it as a training exercise and procession. Even though Will Jordan scored a beautiful hat-trick, the results made that feat seem hollow. Long before the last buzzer, thousands of chairs were empty.
'All Blacks will take some stopping'
By Robert Kitson of the Guardian
"New Zealand will soon begin a new chapter in their storied rugby history in just 80 minutes.No nation has ever won four World Cup championships, and fortunately for them, they have an extra day to rest up before the final on next Saturday. The All Blacks will be difficult to stop no matter who they play.
"Argentina obviously didn't have a response, giving up seven tries in the end, and coming in a distant second. Even when they are not at their best, New Zealand can dictate terms because they can keep the scoreboard going, and they have the most effective conductor in the game in fly-half Richie Mo'unga.
"They also boast the dangerous Will Jordan, who overtook Damian Penaud of France with three tries to become the competition's top try scorer. Jordan, who has already scored an equal-record number of tries, would be the first to praise the All Black pack for putting in the hard work, but New Zealand continues to stand apart due to their superior ability to take advantage of their opportunities.
Former All Black Israel Dagg:
Nobody in New Zealand, in my opinion, anticipated that we would be competing in a World Cup final. Let's face it, many individuals have doubts about what has happened and may still have them. Mixed selection, mixed results, and questions about our level of competence. We are now entering a World Cup final.
"Fozzy is going to be happy. Everyone has backed the opposition. He has remained true to himself and what he stands for, and he might even go out on top. He is a devoted man.
Foster deserves great credit
By Gavin Mairs, UK Telegraph
"When New Zealand was soundly outplayed in their loss to France in the tournament's opening match, 42 days ago, the likelihood of Ian Foster's team making it to the championship game appeared more than remote.
"In fact, it had seemed much further away at this time last year when Foster was on the verge of losing his job following four losses to Ireland, South Africa, and Argentina. Never underestimate the All Blacks, if there is any lesson to be learned from this.
Foster has done a fantastic job of turning around his team's fortunes, and he has done it with the kind of speed that is typical of great All Blacks coaches. The clamor for Scott Robertson to succeed him is age-old and is based on the Crusaders' Super Rugby victories and his well-known breakdancing celebrations.
Foster, in contrast, had an outdated appearance, and his detractors suggested that he might not understand the current game. However, the most important quality of a good coach has remained constant: inspiring the team to play with loyalty for the manager. Whatever the outside noise, it is obvious that his All Blacks team is more than capable of doing that.
Jordie Barrett:
It's really sweet. This group is exploring new ground. In the semifinals four years ago, we faltered. This team makes me incredibly proud, and it's still early. Whoever you play, we're going to have another difficult game.
"The circumstances were actually beneficial. They made us put our skill set to the test.
"This group includes various World Cup winners and World Cup finalists. We'll draw as much from their knowledge as we can.
'Botched event'
Liam Napier, NZ Herald
"Everyone is aware that by holding the draw so soon in advance, the World Cup's organizers horribly ruined their crowning achievement. Argentina advanced to the semifinals due of the tournament's extreme lopsidedness, whereas Ireland and France were eliminated last week despite their fascinating play. On this impressive stage, the foolishness of that poor scheduling was further demonstrated. The Pumas never competed against the All Blacks. Their poorest World Cup semifinal was their third one.
That this World Cup semifinal "fell decidedly flat in patches" is the terrible part. Before the game, there were pockets of Pumas supporters chanting, but by the second half, when the game was over, the audience was limited to starting a Mexican wave with 30 minutes left.
"The All Blacks' job isn't to generate atmosphere, though. They had one task – win by any means necessary."
'Plenty to work on'
Gregor Paul, NZ Herald
"Following the effective yet spectacular destruction of Argentina, all the stragglers who weren't on the All Blacks bandwagon last week will be rushing to join.
"The team that was in disarray 14 months ago after losing the first test against Argentina in New Zealand is now in the World Cup final, and the coach—who even his employer appeared to want to fire—is now 80 minutes away from penning one of the greatest comeback tales in rugby history.
And they got there thanks to a performance that was strong, composed, in control, and occasionally creatively spectacular but also had enough flaws to give the All Blacks reason to believe they still have a lot to work on before the championship game.And they got there thanks to a performance that was strong, composed, in control, and occasionally creatively spectacular but also had enough flaws to give the All Blacks reason to believe they still have a lot to work on before the championship game.