Gary Neville makes surprising Tottenham admission after fast PL start
According to Gary Neville, Tottenham has surprised him the most so far this season.

Pundits could have been forgiven for predicting that Tottenham would struggle this season given the team's chaotic appearance at the beginning of the summer.

In addition to losing Harry Kane, the best player in the team's recent history, there was a great deal of animosity between the fan base and the ownership of the Lilywhites.

In addition, many considered Ange Postecoglou to be a risky appointment due to his inexperience at the highest level.

These factors may have contributed to the prediction made by some (Football Insider) that Tottenham would have difficulty placing even in the top half of the table.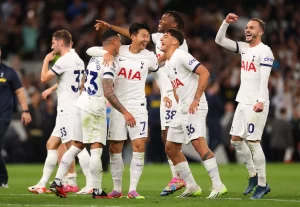 After a few months, though, it is accurate to state that Spurs have undergone a complete transformation. The team is now backed up by a large number of talented young players, plays some visually striking football, and has impressed supporters all year long.
Tottenham are the Premier League surprise package
Neville acknowledged that Tottenham has emerged as the campaign's biggest surprise thus far.
Even though it was not a popular choice among the fan base at the time, the Tottenham board and Daniel Levy deserve a great deal of credit for passing up on Mauricio Pochettino and placing a wise wager on Postecoglou.
Read More:
'What is Ange's ball': Ange Postecoglou openly explains his type of ball
Ange Postecoglou explains his philosophy to FourFourTwo
"Though there is a structure, a football game does throw things up." Though there are certain rules that we as a group must follow in order for the individuals to work within it, we try to let the players use that to find solutions.