Rugby World Cup 2023: Why does victory mean more to South Africa?
Siya Kolisi, the victorious captain, did not conceal the reality that many people in his native country were not living up to South Africa's prosperity in Paris, even after hoisting the Rugby World Cup trophy.
At the Stade de France on Saturday, the Springboks defeated New Zealand 12–11, becoming the first team to win back-to-back tournament editions while playing away from home.
They were not present for the first two editions due to the sporting ban imposed in response to the country's apartheid government, but they have now won half of the eight tournaments they have participated in, making them the first nation to win it four times.
Nelson Mandela celebrated on the Johannesburg field in a green and gold shirt and cap, returning an emblem that had been used divisively during apartheid to the Boks when they tasted victory on home soil for the first time in their history in 1995.
The year before, in South Africa's first nonracial elections, Mandela had been elected president and the country had been re-admitted to international sports, allowing black athletes to rejoin teams. The ruling African National Congress (ANC), outlawed until 1990, had secured victory.
Expectations for the so-called "Rainbow Nation" were high following that widely publicized victory, but after 29 years, South Africa faces numerous economic challenges, including high rates of poverty and frequent power outages, in addition to having the highest unemployment rate in the world (42%).
As he became the team's first black captain a year before they won the 2019 tournament, Kolisi, whose reputation as a symbol of hope has only grown, said, "The people of South Africa will tell you that there's not a lot going right in our country."
"South Africa is a lovely country beset with many issues. We have compassion for our nation and for one another."
'We are all in this together'
The current president of South Africa, Cyril Ramaphosa, took office four months before Kolisi was appointed captain and is carrying on Mandela's legacy. He was present at the team's Paris celebrations and expressed a strong desire for the team's unity to be more widely accepted in society.
The legendary Chester Williams was the only black player on the team in 1995; by the time of the 2023 final, nearly half of South Africa's players were black. "We need more of this, and not just in the domain of sporting achievement," Ramaphosa declared.
The team exhibited many of the traits that Ramaphosa believes will be necessary to address South Africa's status as the most unequal nation in the world.
He highlighted that those problems could not be "forgotten or wished away" by the "fleeting moment" of sporting victory. "The patriotism we display in sports stadiums should be reflected in our approach to overcoming our challenges," he continued.
"We are all in this together as government, business, labour, civil society and citizens," said Ramaphosa.
The outcome also brought the president's opinions into line with those of the Democratic Alliance, an opposition party whose leader, John Steenhuisen, shared a Multi-Party Charter statement endorsing the group's motto, "Stronger Together."
"If we unite, nothing can stand in our way," they said.
Many of South Africa's vanquished opponents at the World Cup would no doubt recognise the truth of that statement.
Reflecting the Rainbow Nation
Because of what Chulumanco Macingwane of the Gwijo Squad fan movement refers to as a "rebrand" over the last five years—which has allowed players from low-income backgrounds to make unconventional careers—part of the squad's appeal to South Africans is their relatability.
Among the players Macingwane mentions is Winger Makazole Mapimpi, who was instrumental in the 2019 victory. He talks about how the squad's vivid representation of the Rainbow Nation is a result of the diversity of languages and backgrounds present in the locker room.
"It's incredibly poetic that the Springboks have a black captain now," Macingwane said to BBC Sport Africa.
We're now well-known thanks to Rugby. The impact of football on Brazil is analogous.
Because rugby gives us a feeling of unity and a cause we can all rally behind, it brings us together.
"If only more of our sporting federations understood that that is exactly what needs to happen."
When he was younger, Kolisi admitted after the game that he "couldn't have dreamt" of being on the international scene.
"With where we come from, a lot of us shouldn't be here today," he continued.
"My own objectives, aspirations, and motivations for playing rugby are all unique. Being here would not be possible without my family and community, so I want to make sure I take care of them as well.
Some of them are playing for their parents, who are no longer with us. Our nation is what binds us together. You won't understand it from me."
Bobby Skinstad, a 2007 World Cup winner and former South Africa international, praises the team's willingness to take on leadership roles.
"I'm not going to go on a sob story," Skinstad stated to the Rugby Union Daily podcast on BBC Radio 5 Live.
Rugby and South Africa are closely associated. The Springboks are a symbol of their identity and national pride.
It's incredible that these guys have chosen to represent that culture.
"Yeah, things are difficult, but we can try to improve them or we can try to stand for something greater than ourselves," they have stated. They're really good at that.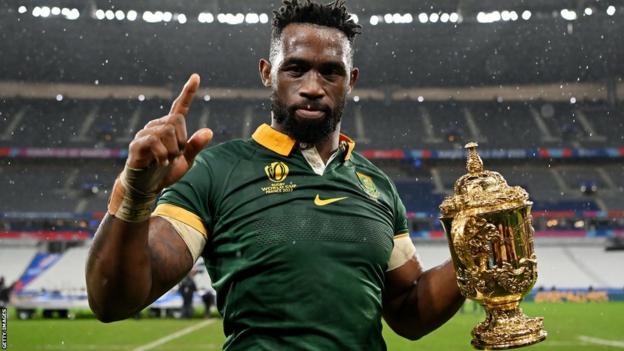 'It gives so much hope'
Before the competition began, Francois Pienaar, the man who lifted South Africa's first World Cup, told the BBC that he was still reminded "on a weekly basis" of the significance of that historic victory in 1995.
The 56-year-old listens to "stories from people in the townships that didn't like rugby, stood against it [but] started following the game" .
However, he shares the disappointment of others regarding the nation's current course.
"For many, the hope has not materialized. In actuality, the weak and impoverished are the ones who suffer.
Because of this, many fans will be thrilled to have a chance to celebrate with their team and take a break from their hardships when trophy parades are scheduled for this week in major cities to welcome them home.
"It's just not going well, but there will be a big party to welcome the team when they get there," South African journalist Mo Allie said on Newsday on the BBC World Service.
Siya Kolisi is from an impoverished family and doesn't know where he will get his next meal.
"We have severe economic issues that affect people in our homeland. Every day there are blackouts.
It simply offers the nation so much hope and something to be happy about.
Politicians have also been forced to think about it since it demonstrates what can happen when people band together and pull in the same direction.
"It just shows the power of sport and what it can do for a nation that is as troubled as South Africa."