REACTION: Following Saturday's World Cup Final in Saint-Denis, Springbok captain Siya Kolisi wants the world to know that Jordie Barrett did, in fact, shake President Cyril Ramaphosa's hand.
Video footage from Saturday's medal ceremony has been making the rounds on social media. It appears to show Barrett ignoring the South African president as he accepts his silver medal.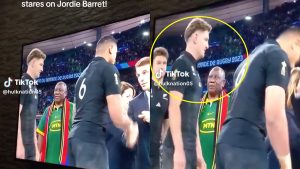 However, after the Bok team returned home after winning the World Cup, Kolisi clarified matters at a press conference at Johannesburg's OR Tambo International Airport.
Kolisi stated, "There was a video about Jordie Barrett that went viral on TikTok after the game, and someone believes that he didn't shake the president's hand."
"People have been harsh on him and he has been receiving negative press."
It's difficult to lose a World Cup Final, and it's clear that receiving such unfavorable coverage is bad.
"I have personal knowledge of him, and he is not that type of person. Probably after he shook hands, someone took the video.
"He shook the president's hand, and we would like to express our unwavering support for him. Both New Zealand and we hold each other in high regard. So please, let's just enjoy ourselves.
"There is no greater feeling than losing a game and then receiving these kinds of notifications."
"It's been extremely difficult for him, the team, and his family, but we are all behind him as a South African team."
So, if you can [aimed at the media], please know that he did shake the president's hand.
Kolisi saw this as confirmation of their purpose in France as thousands of supporters flocked to the airport to welcome the Boks home.
"South Africa proved to us exactly who we accomplished it for on Tuesday," a jubilant Kolisi declared.
"We would like to thank the people of South Africa on behalf of the team. Although the last 20 weeks were difficult, four years of planning went into it.
"When we won the World Cup in 2019, our supporters expected us to win, but they didn't think we would. Instead, they were optimistic because the tournament was always scheduled for 2023. However, things changed and we emerged victorious in 2019."
"This was a win for all South Africans, not just us players, and we proved what this diverse team is capable of."
"The coaching staff knew how to align us as a group," Kolisi continued. This trophy was intended to honor those going through difficult times, as well as residents of Zwide, Goodwood, Malmesbury, and all other towns and villages. It was also intended to honor the more affluent and those who aspire to succeed in life.
As a team, we hope to inspire hope in our people by serving as a model for them, demonstrating our ability to accomplish goals.
It was also crucial for us to change while triumphing. However, we would also like this to go beyond sports, current events in South Africa, and people's outlook on the future.
"We can inspire and give hope to people even though we may not be able to change their circumstances."