Declan Rice imagined himself at Arsenal and tried to picture how "unusual" a night like this one would be. After a decade at West Ham, Rice is making his way back to east London for the first time since his £105 million move to the Gunners. He becomes the most expensive English player in history and a West Ham legend at the age of 24. Rice became just the third captain in West Ham history to win a major trophy when the team won the Europa Conference League in his final game for the club.
The 14-year-old boy who was let go by Chelsea was raised at West Ham. He settled in, and he left as the most successful England international to play for the team since Sir Trevor Brooking, their greatest captain since Bobby Moore and Billy Bonds. He was an incredible midfield player who had outgrown the London Stadium and could have easily fit in and added value to any team in Europe when he left.
Rice's decision to move across London and join Arsenal may have hurt the team and the fans he claims he holds in his heart, which may be the reason for some of the jeers on Wednesday night. However, his application and dedication to West Ham during a time when he had the opportunity to turn around and lead to a night of glorious triumph in Prague guarantees that, in David Moyes' words, he should be "welcomed back with open arms." Many big names have left West Ham over the years without being able to secure such a significant win.
"Despite the fact that we kind of knew he probably wasn't going to stay at West Ham, the most important thing was that he gave 100 percent in every game," Moyes said.
"Hopefully," stated Mikel Arteta, the manager who persuaded Rice to join Arsenal by showing him what he could become. He is unable to express how much gratitude he has for West Ham and everything they have done for him and the entire team. I'm hoping it will apply to him in the same manner.
Rice had so much ambition that West Ham was unlikely to stand in his way. Rice aspired to win the Champions League, not just participate in it. He came to the conclusion that he could have made a difference after considering how close Arsenal was to defeating Manchester City to win the title the previous season. He was aware of how long it had been since Arsenal had last won the Premier League and desired that responsibility.
"When I came here I wanted to be one of them players who makes a big impact, like [Virgil] van Dijk at Liverpool," Rice said in a recent interview with BBC Radio 5 Live. If Van Dijk was the club-record £75m signing who took Jurgen Klopp's Liverpool from free-scoring but frail entertainers to the resilient and relentless mentality monsters, it is telling of how Rice views his own role in Arteta's plan to win major honours.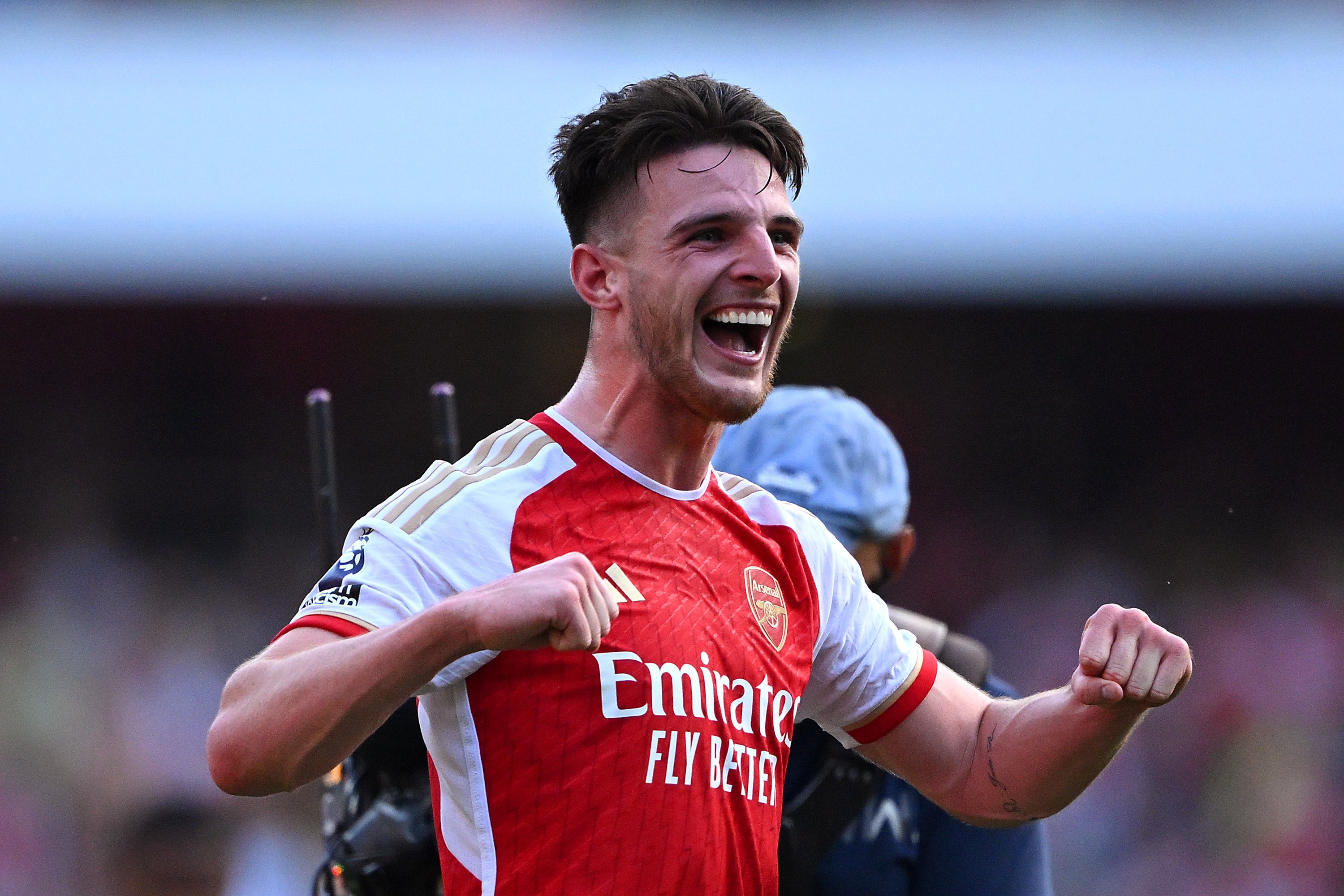 Similar to Van Dijk, Rice, a £105 million acquisition, has also adapted to life at Arsenal right away and appears to be a secure investment. If Rice has given Arsenal's midfield a sense of authority and leadership, part of that is because there was a deficiency in those areas during the previous campaign. It has been particularly noticeable when they haven't performed at their highest level. While Arteta's team can now produce results in close games, the Gunners are still capable of blowing teams away. The victories over Manchester City, United, and Sevilla are noteworthy, as is Rice's contribution to obtaining a point against Chelsea.
While adjusting to an entirely new style at the Emirates, Rice has also given Arsenal another dimension. Rice went from playing in midfield for a team that averaged just over 40% of the ball to Arteta, where he now plays for a team that averages about 60%. Although Rice's role has evolved since joining Arsenal, his importance to both systems remains constant despite the differences in management styles between Moyes and Arteta.
Rice's notable accomplishments and distinguishing traits during his time at West Ham included his ability to carry and intercept in midfield, as well as his role as both disruptor and progressor in a deep-lying side. Rice's interception and progressive carry statistics, which were among the best in Europe while he was at West Ham, placed him first and third in the Premier League in the previous season, according to FBref.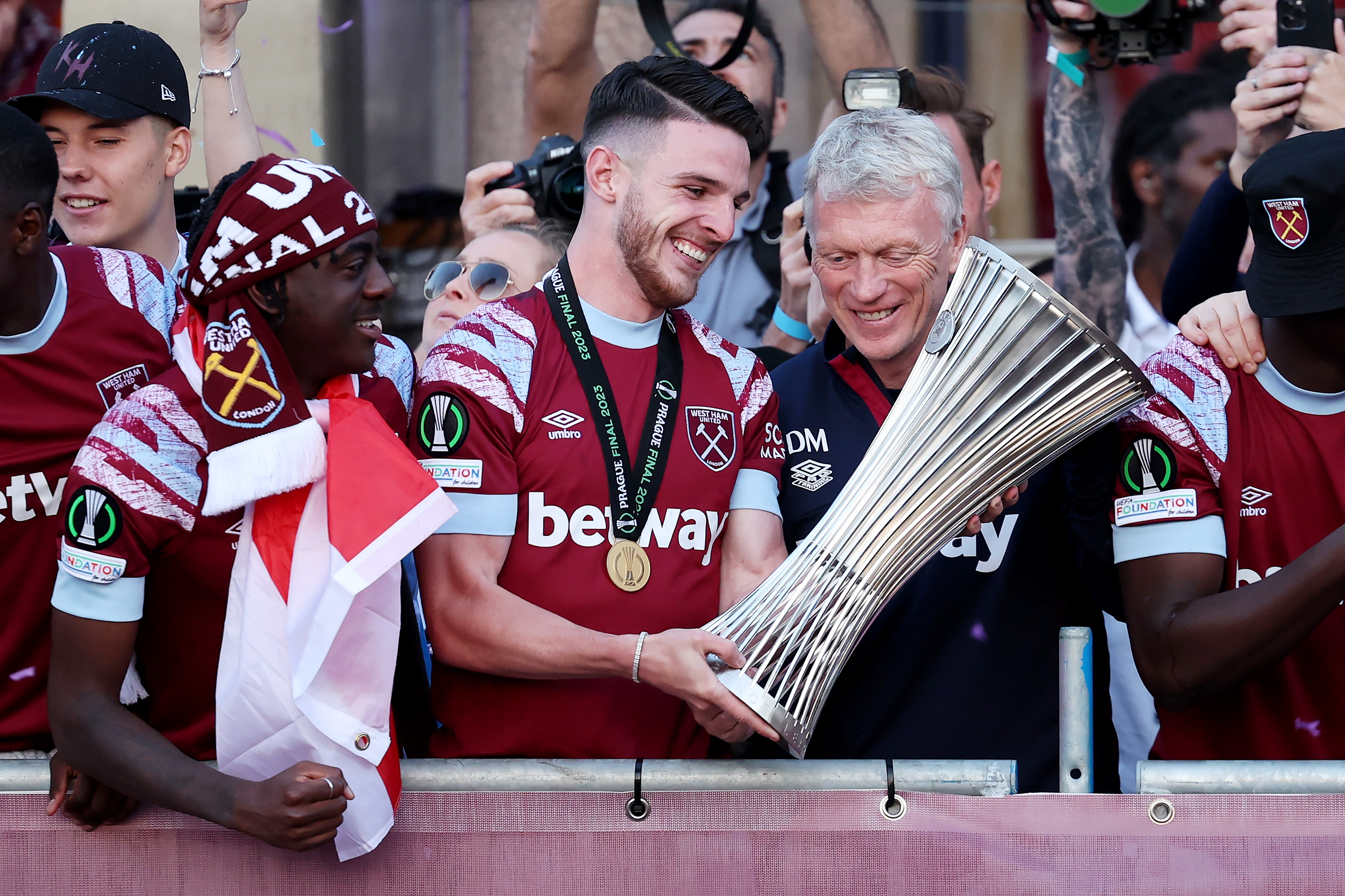 Rice is currently at Arsenal and ranks 11th in the league in carrying distance and 15th in interceptions thus far this season. Not that Rice is any less effective—he just has to pick and choose his moments these days. Although Arteta wants his team to set the tone and carry out the plan, this may be the reason Rice has made the most significant decisions when Arsenal has most needed them. Rice's ability to break play and stretch the pitch has been highlighted in victories over City at the Emirates and a thrilling Champions League victory in Seville.
His former supporters may witness the more subdued, composed Rice that Arsenal needs to set the pace if the 24-year-old is chosen to play against West Ham at the London Stadium—a legitimate question considering Arteta is probably going to switch up his starting lineup once more. Rice would have a noticeable impact if he was playing for West Ham against Arsenal. The roles are reversed now, and Rice may have made more inconspicuous contributions.
When he exits the bubble as an opponent, Rice said, "[I'm] not sure exactly how I will feel." If he scores a goal or helps force West Ham out of the game, that could exacerbate those feelings even more. Although Rice helped West Ham win a significant championship, his motivation at Arsenal has also come from his desire to win more trophies. And while Rice doesn't mean to belittle the competition or his old team, he has higher expectations for this season than winning the Carabao Cup.