Predited the starting lineup for Spurs versus Chelsea
Spurs could return to the top of the table with a victory over Chelsea, provided that Arsenal and Liverpool dropped points over the weekend. At that point, they would have a five-point advantage over the two teams from the previous round in addition to a two-point advantage over City.
There has been conjecture over the left back position and whether to start Richarlison or Johnson at attacking midfield during the past week. The following are the team selections for tonight's game:
Goalkeeper – Guglielmo Vicario
Vicario, a fantastic addition to the Spurs team that took Hugo Lloris' place, has been outstanding this season, almost keeping us scoreless throughout the entire month of October. He still has the highest save percentage of any keeper in the league, so his numbers speak for themselves. Venom is still the Prem's most underappreciated shot-blocker, and he will undoubtedly be required tonight.
Left-back – Emerson Royal
The left-back position will see the most changes for the London Derby. The Brazilian is the backup fullback option since Ben Davies is expected to miss time due to an ankle injury and Ange wants to rest Udogie, who took a knock in the previous game. Though he is less well-known for his defensive abilities and typically plays on the right, he is Ange's best alternative. Fortunately, an essential aspect of Ange-Ball is that he can be used most effectively as an inverted fullback.
Center-backs – Cristian Romero & Micky van de Ven
Being one of the league's best center-back combinations this year, Tottenham has relied on these two to start the build-up play for Ange's attacking football style in addition to keeping strikers at bay. It will be shocking to see either of them starting from the bench at any point this year, assuming they remain healthy.
Right-back – Pedro Porro 
Given the lack of depth in the squad at the position and the possibility of injuries to Ben Davies and Destiny Udogie, Porro has been a constant in the starting lineup the entire season. As a result, he will almost certainly start.
Midfielders – James Maddison, Yves Bissouma, Pape Sarr
As the season has gone on, these three have come to gel rather well together. Each of them has demonstrated their capacity to play through the lines and quickly advance both on and off the ball to support the attack. Since he is no longer under caution for yellow cards, Bissouma will be hoping to play a more significant role on defense. Madders, of course, has been outstanding in every way.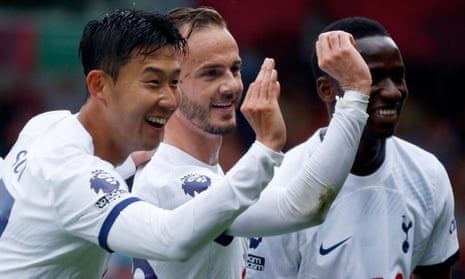 Throughout the season, Sarr has shown to be one of the Spurs' most adaptable players. He covers a lot of ground every game and fills in gaps to help carry plays and advance the ball when necessary. Although Ange has previously used the player, Hojbjerg is still an option, though it's more likely that he'll enter as a late substitute. Not even close to being ready for ninety minutes of football, much less a London derby, is Rodrigo Bentancur, who entered the game toward the end against Palace.
Right-wing – Dejan Kulusevski
This season, Kulu hasn't been the most effective in front of goal, but he has made a contribution in other areas. Since joining Spurs under Antonio Conte, the former Juventus player has excelled, and he appears to be adjusting to Ange-Ball quite well, making several risky carries and applying intense pressure every game. He has been the team favorite the entire season, and maybe he will keep getting better at maintaining his poise in front of the net.
Left-wing – Brennan Johnson
Considering that he hasn't started since the game against Arsenal, Ange might be considering giving him a try. Despite having four goal contributions in 10 league games, Richarlison did not perform as well as he did the previous season despite playing well against Fulham. Yet because of injury, Johnson hasn't yet had a true opportunity.
It's also possible that Chelsea will re-enter the right-back competition with Reece James, in which case Ange will undoubtedly want to choose Johnson over Richarlison due to his superior pace. Though considering the opponent, it's a difficult decision, the Welshman seems the most suitable.
Striker – Heung-min Son
Anyone would never assume otherwise. With such ease, Sonny has adapted to his new position as captain. With eight goals so far, he leads the team in scoring; perhaps he will score a few more tonight. At his peak, Tottenham will require him.