Ange Postecoglou, the manager of Tottenham Hotspur, has now discussed VAR and its impact on sport.
The Australian manager disclosed that the ongoing disruption caused by video-assisted officiating has caused the game's tempo to slow down and the referee's authority to be compromised.
The Tottenham manager stated that, in order to ensure that the game proceeds in a particular manner, he is prepared to accept the judgment of the referee, whether it is made in favor of him or against him.
Instead, the implementation of VAR has game is moving in that direction and that in the years to come, more forensic analysis of decisions will take place.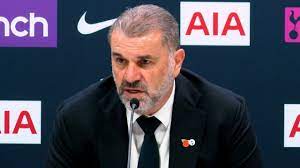 "No, but I think it's going to become the norm," he remarked on Sky Sports. That's the direction that the game is going.

"I believe that this is regrettably the way that we will have to watch and play football moving forward. I have expressed my dislike for it previously. I dislike waiting for choices and hanging about in the theater.

"However, I am aware that I'm alone in that. I have been a manager for 26 years, and throughout that time, I have always been willing to accept the referee's ruling, good or bad. Let me tell you, I've experienced some shockers in my profession, but I've also had some good fortune.

Yet because all I wanted was for the game to be played, I would accept that. This is what is going to occur, though, if we are always whining about decisions.

Even after forensic scrutiny, people will still not be satisfied, therefore they will continue to question everything to make sure it is correct.
When VAR was first introduced, a number of Premier League managers have questioned its efficacy. Officials should have an easier time of it, but that hasn't precisely been the case despite having access to advanced technologies.
In the Premier League, contentious requests have been made to eliminate the video-assisted refereeing system in addition to controversial decisions made with VAR in place.
After his team's Premier League loss to Newcastle United, Mikel Arteta, the manager of Arsenal, recently unleashed an indignant attack on the referees and the VAR technology.