Wright says that Ten Hag's "Fergie-esque" Ange's tactics would have earned him a lot of criticism at Man Utd.
Ian Wright believes that "everybody would have lost their minds" if Erik ten Hag, the manager of Manchester United, had employed the strategies Ange Postecoglou used for Tottenham against Chelsea on Monday.
Despite being reduced to nine men at the Tottenham Hotspur Stadium, Postecoglou managed to get his team to play an extremely high line, which gave Chelsea plenty of room to run in behind them.
Despite being behind 1-0 at the half, the Blues eventually prevailed 4-1 thanks to a hat-trick from Nicolas Jackson in the second half. However, they took a while to take advantage of the space.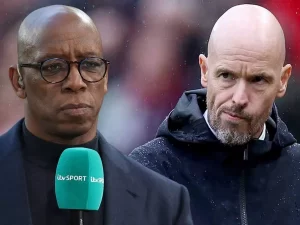 Although the Arsenal legend found Postecoglou's post-match interview "genius," in which the Australian demonstrated "deflection tactics" that Sir Alex Ferguson would have been proud of, impressed Wright despite his confusion over the tactics.
Wright remarked, "I couldn't understand going down to nine men and your tactics are to be on the halfway line with defenders having already set up to run back] without applying any pressure to the ball."
I was thinking to myself, 'If Ten Hag had those tactics, everybody would have lost their minds,' because there was no way they could hold on when you have that line like that.
"But Ange's deflection strategies were reminiscent of Fergie's; he used his skill to divert attention from their play, their actions, the sending off of two players for sheer insanity, and their high line play. From his perspective, I considered that to be brilliant.
"What baffled me about Tottenham is that, despite Chelsea's increased chances, they are missing them left, right, and center. It was puzzling to me that they weren't able to frustrate Chelsea when they were down one goal by not having both banks of four with one in front and potentially breaking on them."
Following the game, Postecoglou was questioned about his gung-ho strategies after making Mikel Arteta look like a whiny child with his opinions on refereeing calls.
It's simply who we are, friend. That's who we will remain for the duration that I am here. We will try when we are down to five men.